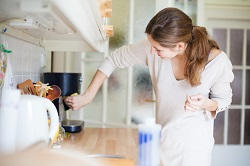 The Ultimate End of Tenancy Cleaning Guide
18 June 2015
If you have been renting your home and have reached the end of the lease, you're going to need to give the house one final clean up to ensure that you get your full deposit back. House cleaning can be a mammoth task if you don't know what you are doing which is why this cleaning guide will be your new best friend. Just follow the tips, apply them to your own home cleaning regime and you can guarantee that your deposit will be returned to you in full.
Preparation Steps
Before you begin with your house cleansing ritual, you're going to need the right equipment for the job. This includes black bin bags, washing up liquid, anti-bacterial spray, disinfectant, dish cloths, sponges and anything else that you think you may need. If you live with roommates then alert them to the upcoming cleaning mission. It may be a good idea to separate the rooms out so that one person will be cleaning the living room whilst another tackles the bathroom etc.
Kitchen
Kitchen cleaning is usually the most time consuming room to clean because there are a lot of appliances that will need to be wiped down and the landlord tends to check every inch to search for damage or dirt. You will need to clean the cabinets and countertops with disinfectant to eliminate bacteria that may have gathered there. Mop the floors until they shine and don't forget the kitchen appliances. Oven cleaning is particularly difficult as you will need to remove the shelves and clean them separately with washing up liquid and warm water. The interior of the oven can be wiped down with baking soda and vinegar to banish any food residue.
Bathroom
The first thing in the bathroom that you will need to do is to open the window wide to reduce the chance of mildew developing inside. Next you will need to clean the sink, taps, mirror, toilet and shower. Take some extra time to bleach the grout and clean the tiles with some vinegar mixed with water. This will leave the bathroom tiles spotless and will get rid of any soap or shampoo blotches. An aspect of the bathroom that landlords tend to be particularly harsh with is the drains. Make sure that there are no hairs clogging up the drain to avoid your deposit being cut and give the shower a good going over with a damp cloth and some cleaning spray to give it a nice polished finish.
Living Room/Bedroom
Bedrooms and living rooms shouldn't take up too much cleaning time once you have packed up your things and are ready to move out. Wash any spillage stains from the walls with warm water and a clean dish cloth. Use newspapers to get the windows to shine bright like a diamond. When it comes to tackling carpeted floors you may need to consider calling in the professional cleaners to help remove any stains which could be something the landlord notices and uses against you and your deposit.
Outside Area
Students and tenants of all ages seem to forget to tackle the garden before they pack up their things and leave for good. More often than not there will be overgrown weeds sprouting from the cracks in the pavement. Pull them out and cut the grass before you move out. While you're outside, don't neglect the trash cans. Make sure to empty all of the bins in the house and empty the fridge and kitchen cabinets too.
You may also like