Crystal Palace Cleaners: Offering the Best Cleaning Services SE19 to Local Residents
Here at Crystal Palace Cleaners, we offer a professional and comprehensive range of SE19 cleaning services. From domestic services such as carpet cleaning, to commercial services such as office cleaning, whatever your need for the cleaner, the chances are one of our Crystal Palace cleaning services will cover what you need. To see whether one of our many Crystal Palace cleaning service is right for you, call us on

– our dedicated Crystal Palace cleaners agents are waiting by the phone ready to take your call and give you a free quote on whatever service you are after. As well as our office and carpet cleaning, we also offer SE19 end of tenancy cleaning, upholstery cleaning and house cleaning services. Please do not hesitate to call us straight away on

.
Although some of us genuinely enjoy waking up in the morning, creating a cleaning schedule for the day and completing by 7pm, the thought of doing that for most of us makes us bang on our heads on the wall in anticipation of the boredom to follow. To maintain a tidy home, at least an hour's work each has to be put into it. Just think of everything that requires cleaning on a daily basis; laundry, the dishes, vacuuming, dusting, the bathroom – all these need to be regularly serviced in order to truly maintain a pristine clean home. For most of us, there just aren't enough hours in the day to do this. After working 9-5 with a good 2 hours of commuting either side, you do not want to get home and then put in a shift cleaning your home. You've earned those leisure hours; they are yours to spend how you wish. Indeed the last thing you want to do is to sacrifice one of your days off to cleaning. For others of us, we may have the spare time, but would rather use it doing something other than cleaning, and who can really blame you? Cleaning is a boring and menial task that will start all over again tomorrow. For most of us, getting satisfaction out of cleaning is near impossible.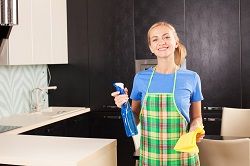 It is our goal to provide the residents of Crystal Palace with the most professional and comprehensive range of cleaning services. To see whether one of our SE20 cleaning services is right for you, call us on

. We strive to provide our customers with the best possible customer service; our professional Crystal Palace cleaners pride themselves in what they do. You'll be sure to have peace of mind knowing that you are in good hands if you chose to use one of our services.
Save Big With Crystal Palace Cleaners Company in SE19
Our most used service is our Crystal Palace house cleaning service. As mentioned above, cleaning can be a really time-consuming bore. After working all day, it is quite understandable that you don't want to come home and pick up after yourself and your dependents. Even if you do have the spare time, it is still more than understandable if you want us to take your daily domestic cleaning chores out of your hands and put them into the hands of our trained SE20 home cleaning professionals. Our professionals are, well, professional, so you can be sure that they clean much more thoroughly and efficiently than the average Joe cleaner. For the modest fee you pay, our SE19 cleaners will come into your home at a time and day each week suitable for you and leave your home looking spick and span. To book your service, just call us – a one minute phone call will let us give you a free quote and better inform you of the details of our services.
Maintaining a clean home is not the only reason why someone might require our Crystal Palace domestic cleaning service. If you feel your house is in need of a spring clean, then our SE19 house cleaning service could be right for you. Or if you have just failed to clean your home for some time, our SE20 house cleaning service could be the answer to all your domestic cleaning problems. Whatever your reason for requiring our Crystal Palace house cleaning service, be sure to give us a call on

.
Domestic cleaning is not the only service we offer our clients. We also offer a comprehensive SE19 office cleaning service. Just like the domestic home is important to keep clean, as is the work place. In fact, keeping the work place clean is probably much more important as an untidy office is bad for employee morale and gives your potential and existing clients and bad impression of your professionalism.
Other than the services already mentioned, we also offer our customers an end of tenancy cleaning service, a carpet cleaning service, and an upholstery cleaning service.
If you require a service that has not been mentioned above, then don't worry; the chances are we will be able to offer you a service that is right for you. To get a full list of the services we offer, then call us here at Crystal Palace Cleaners – our dedicated Crystal Palace cleaning agents are ready and willing to take your calls, answer any questions you may have and give you a free quote on anyone of our services.
Find Out More About Crystal Palace
Crystal Palace is located in South-East London, some 4 miles away from the centre of the capital. The district gets its name from the architectural marvel built by Joseph Paxton in 1851. The first structure to ever be made purely out of cast-iron and plate glass, the Crystal Palace was built in order to house the Great Exhibition of 1851, where more than 14,000 people visited the Palace from around the world. With the Palace boasting over 990,000 of square-feet, you can only imagine how mind blowing the structure would have been to the people to London at the time of the mid-19th century. The Crystal Palace later succumbed to fires, but there are new plans to have it rebuilt to the exact specifications.
Save
Save