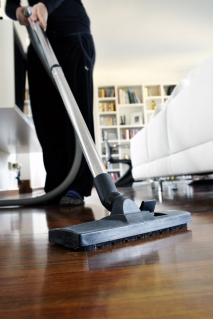 Achieving a Clean Carpet with Useful Cleaning Tips
14 November 2013
Carpets are an important part of the room they are in. they can help set the tone, add to the atmosphere and colour, provide a comfortable platform to stand and walk across and more. They come in many colours, designs and fabrics, allowing us to get the one we want to make the room perfect. A woolly, brightly coloured carpet is perfect for a comfortable and warm living room, while a plain and practical carpet is perfect for an office. It is because of their importance that carpets must be carefully taken care of, but this is easier said than done. Dirt will be trodden into it, food and drink spilling down, tears and loose threads popping up, stains making their mark and the colour can fade. You must be ready to put in a lot of work and care to keep your carpets looking their best, so if you want some help, tips, information and guidance, then read on.
Vacuuming may seem like an obvious chore for keeping carpets clean but it is one of the most essential steps. You must regularly go over your carpets and ensure that no spot is look over. Get into every corner, behind furniture with a nozzle and move large items to get underneath them, though take care when shifting larger goods. There is a wide variety of vacuum cleaners available so look into them thoroughly to find the one right for you. Select one that is affordable, powerful, can manoeuvre easily and comes with extra attachments. Always properly schedule your vacuuming so you have enough time to get it done and don't forget about it.
Stains can plague a carpet, ruining its appearance and quality. You should be prepared to tackle these thoroughly. The moment any dirt, food or stains it's the floor, jump into action because leaving them for too long will cause them to dry up and become embedded, making them much more difficult to remove. Paper towels and clothes will be used here, because the former should be used to dab up the stain and the latter to wipe what is left. Always dab liquids first to absorb them so they are not spread about.
If you have existing stains on your carpet, there are several ways to go about removing them. Scrubbing them comprehensively with a wet cloth can get rid of some stains but for others you will have to think smarter. There will be detergents and bleaches you can use for different stains so look at what are available at your local store. Purchase the one applicable for your stain then follow the instructions to the letter. Never mix chemicals together and always use them in a well-ventilated space. Other goods can be used for removing stains such as baking soda and lemon. These won't be as effective but can be cheaper and are safer to use.
There are other things that can happen to your carpet so you must be prepared to tackle them. Of loose thread, simply cut them rather than tugging at them, because doing so can make things worse. If the colour has faded on a small patch, find the corresponding shade of acrylic paint and gently apply it. For spots that have been burnt or have stains that cannot be removed, gently cut out the spot and apply a new section of carpet, using adhesive glue to keep it in place.
Keeping the carpet clean can be a lot of work, so follow these guidelines to make things simple and achieve successful results.